Games of the Series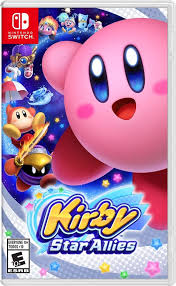 Kirby has been in a lot of games. There is 35 in total, 12 of which are main series while the other 23 are spin-offs. For the most part HAL Laboratory makes the games and Nintendo publishes them, but every now and then a different company may help or create the game. Some other companies that have worked on Kirby are Flagship, Vanpool Games, and Goodfeel.
Here is a list of every game in the series and the year they released
Kirby's Dream Land (main series)(1992)
Kirby's Adventure (main series)(1993)
Kirby's Pinball Land (1993)
Kirby's Dream Course (1994)
Kirby's Avalanche (1995)
Kirby's Dream Land 2 (main series)(1995)
Kirby's Block Ball (1995)
Kirby Super Star (main series)(1996)
Kirby's Star Stacker (1997)
Kirby's Dream Land 3 (main series)(1997)
Kirby's Super Star Stacker (remake)(1998)
Kirby 64: The Crystal Shards (main series)(2000)
Kirby Tilt 'n' Tumble (2000)
Kirby: Nightmare in Dream Land (remake)(2002)
Kirby Air Ride (2003)
Kirby & the Amazing Mirror (main series)(2004)
Kirby: Canvas Curse (2005)
Kirby: Squeak Squad (main series)(2006)
Kirby Super Star Ultra (remake)(2008)
Kirby's Epic Yarn (2010)
Kirby Mass Attack (2011)
Kirby's Return to Dream Land (main series)(2011)
Kirby's Dream Collection (2012)
Kirby: Triple Deluxe (main series)(2014)
Kirby Fighters Deluxe (2014)
Dedede's Drum Dash Deluxe (2014)
Kirby and the Rainbow Curse (2015)
Kirby: Planet Robobot (main series)(2016)
Team Kirby Clash Deluxe (2017)
Kirby's Blowout Blast (2017)
Kirby Battle Royale (2017)
Kirby Star Allies (main series)(2018)
Kirby's Extra Epic Yarn (remake)(2019)
Super Kirby Clash (2019)
Kirby Fighters 2 (2020)
As you can see Kirby has been around for a while and has had quite a few games.